Director of Technical Operations
This job is no longer accepting applications.
Blackbird Interactive needs an experienced technical leader to own the IT infrastructure and development operations of the company. The role will report to the Chief Operating Officer, with close ties to the Chief Technical Officer. 
Can you balance today's priorities with next year's goals to form and execute a technical plan to achieve both? Can you build, guide and inspire a team of engineers and technology professionals to support the creative ambitions of multiple game teams? Do you have a strong, hands-on understanding of information technology and the development process? Do you also care about people, and have a service-oriented perspective?
The Technical Operations Director provides technology solutions, support services, and development infrastructure and process to support BBI's development of high quality games. You will be leading two teams that are responsible for selecting, deploying, maintaining and optimizing technical infrastructure for the company. You will support the studio in the use of this infrastructure, and evaluate and deploy a variety of development processes to empower game teams to make metrics-based decisions to maximize productivity and effectiveness. 
Responsibilities
Lead the IT team responsible for all technical infrastructure, including servers, network, and desktop computers, for both in-studio and work-from-home uses.
Lead the Dev Ops team responsible for smooth operation of development & test environments for all game teams.
Be the primary escalation point for game teams needing help with their infrastructure and development process.
Manage relationships with all client teams, with a service-oriented approach.
Maintain existing technical infrastructure and improve as needed.
Develop tools & solutions that benefit multiple teams.
Champion the use of Blackbird software engineering practices for design, testing, implementation and automation.
Maintain the Technical Operations roadmap, including vision, backlog, objectives and priorities.
Jump wholeheartedly into learning new technologies and systems and leverage them in creative ways to meet our technical and business needs.
Build a culture of sharing knowledge and best practices.
Mentor and guide the professional and technical development of your teams.
Instill a spirit of continuous improvement in the team's technologies, architecture, and processes.
Help your team build relationships across functions with game teams, QA, Operations, and other studio departments.
Requirements
Degree in computer science, information technology, or a related field
10+ years of proven development and technical experience
5+ years of experience leading successful engineering and information technology teams
Strong understanding of best practices and principles of information systems, cybersecurity, architecture, networking, application administration, and systems integration
Familiarity with CI/CD solutions, software configuration management, containerization, cloud services, databases and operational intelligence/monitoring tools.
Excellent verbal and written English
Ability to work in a dynamic and collaborative team environment
Strong ability to manage yourself and others to prioritize work effectively within deadlines
Ability to quickly learn and apply new concepts, principles, and solutions
Self direction and a proven ability to thrive in a highly dynamic environment
Demonstrated ability to make decisions based on data
Strong interdisciplinary collaboration skills, and a service-oriented approach
Preference for candidates with:
Experience in the game development industry
Experience with developing and deploying services on cloud platforms
A passion for gaming!
At Blackbird, we're all about being true to our roots. We started small in our CEO's garage, and even though we're expanding, our desire is to stick to that foundation of creativity, community, and collaboration. Our team has proved that great ideas can come from any position in any discipline, so it's important to us to make sure every voice is heard.
Work/life balance is extremely important to us, and we've demonstrated that over the years by severely limiting over-time requirements. We want people to be happy about coming to work every day, and to that end we offer lots of opportunities for growth and development; whether it's lunch and learns, team events, or our generous vacation days, paid holiday closure and flexible schedules. We also try to provide every opportunity possible for our employees to spearhead R&D initiatives through our BlackOps program. In short, don't expect to feel like a cog in a machine working for BBI. 
Due to COVID-19, applicants must be eligible to work in Canada, or currently in Canada on a work permit/visa. With the exception of specifically on-site roles, all roles will commence as a work-from-home arrangement. This arrangement will be revisited as COVID-19 government regulations are eased.
Please send a cover letter with your resume and application. If applying for an artistic role, please provide a link to your portfolio and/or demo reel.
If you are interested in the role, please apply even if your experience and skills don't perfectly match our ideal credentials. We are committed to diversity and especially encourage members of underrepresented communities to apply. As an equal opportunity employer we encourage applications from all qualified individuals. BBI does not discriminate against applicants based on genders, races, national and ethnic origins, religions, ages, sexual orientation, marital and family status, and/or mental or physical disabilities.
Apply
Your application has been successfully submitted.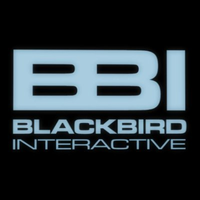 Blackbird Interactive - a private, independent game studio headquartered in Vancouver, British Columbia. Join us on Discord: http://discord.gg/BBI